Interim Head of Division: September 2023 - March 2024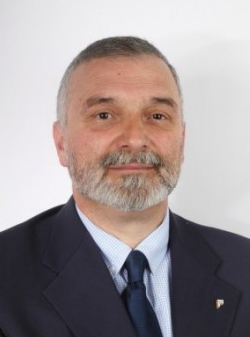 Prof. Giuseppe Lacidogna - Italy
Giuseppe Lacidogna achieved the National Academic Qualification in Italy as Full Professor of Structural Mechanics in 2018. He is Fellow of the European Academy of Sciences, Engineering Division, Brussels, Belgium, effective from July 4, 2018. He has been Associate Professor in Structural Mechanics at the Department of Structural, Geotechnical and Building Engineering (DISEG), Politecnico di Torino, Torino (Italy) since January 2011. He received his PhD degree in Structural Engineering from Politecnico di Torino in 1994, where he graduated cum Laude in Architecture in 1985. Professor Lacidogna is currently Member of the Academic Board of the Doctorate Course in Civil and Environmental Engineering of Politecnico di Torino, and has been Director of the Doctorate Course in Structural Engineering (2016-2018). He is member of the Editorial Board of several international journals, and is an active member of several associations; among them: AIMETA, IA-FraMCoS, SEM, and RILEM. He is Author of more than 300 publications, among which: seven monographs, more than 100 papers in refereed international journals (appearing on SCOPUS and ISI databases), 24 book chapters. He received a Certificate Merit Award from the European Society for Experimental Mechanics (EuraSEM) for his research activity (2018), and has been Inserted in "Top Italian Scientists List", Engineering-Mechanics Area, Macro Area Engineering.
* Officer: March 2020 – March 2024
Officer : March 2020 - March 2024
Officer : March 2018 - March 2022*
Prof. Mauro Ferrari - United States
MMauro Ferrari, Ph.D., has been appointed President of the European Research Council, effective 1/1/2020. Prior to this position he has served in tenured professorships and academic executive/leadership roles at: The University of California, Berkeley; The Ohio State University; The University of Texas Medical School and M.D. Anderson Cancer Center, Houston; The National Cancer Institute of the USA; The Houston Methodist Hospital and Research Institute; and the University of St Thomas. He trained in mechanical engineering (MS, PhD, Berkeley); mathematics (Dottore, Padova, Italy), medicine (no degree, Ohio State) and business (no degree, Harvard and UPenn). He has published over 500 archival papers, over 50 issued patents, and 7 books. He has received numerous National and International awards, and is member of several Academies in Europe and the USA.
*Extension of the mandate until March 2024 approved
Officer : March 2018 - March 2022*
Prof. Philippe Dubois - Belgium
Philippe Dubois is Rector/President of University of Mons UMONS. As full professor he set up the Center of Innovation and Research in Materials & Polymers CIRMAP. His expertise covers macromolecular chemistry; polymer materials; and (reactive) processing of nanocomposites, including bioplastics. He is President and scientific Director of Materia Nova Research Center ASBL in Mons. He is President/co-founder of NANO4 S.A., a spin-off company of UMONS. He is a member of the editorial boards (co-editor for some of them) of 18 international scientific journals in the fields of polymer chemistry and materials science/engineering. He has published 750 peer-reviewed scientific articles, 11 books (H-index = 98, overall citations= 46,000) and is the inventor of 71 patents. Ph. Dubois is elected member of the Royal Academy of Belgium (Class of sciences) and the European Academy of sciences EurASc (Engineering Division).
*Extension of the mandate until March 2024 approved